fabric lino printing kit
Language: English 🇬🇧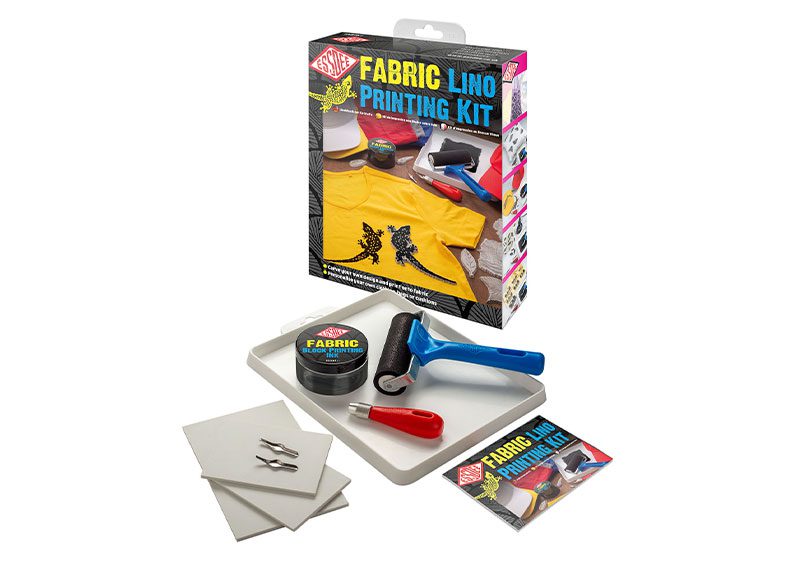 Contents
Essdee water-based Fabric Block Printing Ink (Black – 100ml)
Three pieces of Essdee MasterCut Lino (One piece of 150x100mm and 2 pieces 100x100mm)
Two Essdee Lino Cutters (No1 and No4)
Lino Handle with aluminium ferrule
Essdee Fabric Printing Roller (100mm wide)
Ink Tray (240x200mm)
Printing Blanket (150x100mm).
Introduction
In this kit, you have all the equipment needed to carve and print your own design on to fabric using a lino print technique. Using this technique allows you to create unique prints on fabric without the need for much equipment. Included in this kit is Essdee MasterCut which is an extremely easy to handle and carve material, ideal for both beginners and professionals. The Essdee Fabric Block Printing ink is a highly viscous, water-based ink which will leave you with a bold and vivid print which is soft to the touch. Also included is the Essdee Fabric Roller which is absorbent in design, making it ideal to pick-up and transfer fabric ink which would be too slippery for a normal roller.
Getting Started

Before starting on your fabric print design find yourself a clean, well-lit workspace. Remember that fabric block printing ink stains so take care to protect furniture and any clothing you do not want to print on!
You will need to consider which fabric you would like to print your finished design on, for example, a cushion cover, t-shirt, or tote bag. For the best results, we recommend using 100% cotton as more textured fabrics can produce varied results.
Choose your design

Select the subject of your design to suit the size of your chosen MasterCut block. Try to keep your design simple by making it bold with good contrast to make your image stand out. You can draw directly onto the MasterCut block with a pencil or transfer your design using tracing paper. Remember when you make your print the design will be reversed, so take care with lettering.
We have provided some suggestions in this kit which you can try but remember to get creative and have fun with your own unique designs.
carving your design

Lino cutters are sharp! Never carve towards your hand. Always carve away from your body with your spare hand behind the blade. Never use excessive force when cutting and practice your technique to avoid slips.
When you are ready to carve, loosen the aluminium collar on the lino handle and insert your chosen cutter, then tighten the collar to secure the blade.
Start carving your MasterCut block, remembering to carve away from your hand and use a shallow angle between the cutter and the block. You can move and manipulate your MasterCut block with your spare hand rather than constantly turning the blade.
The areas on your MasterCut block that are not carved will form the printed design, so use the cutters to remove the background and form the details of your image. If you are having difficulty visualising your print as you carve you can use a black marker pen to colour the surface of the MasterCut and give a visual representation of the final print.
When carving the MasterCut the number 1 cutter is best to carve the outline and fine details of your design. The number 4 cutter can then be used to carve away larger areas of your design or cut the excess MasterCut from the background of your design.
To use the cutter for this purpose, follow the outline you have made and push the number 4 cutter through the MasterCut. This will leave you with a "u" shape. Continue to do this all-around your outline, overlapping the "u" shapes as you go. You should then be able to separate your design away from the MasterCut. It is worth noting that this method does not have to be used, you could use scissors or a craft knife to remove the background.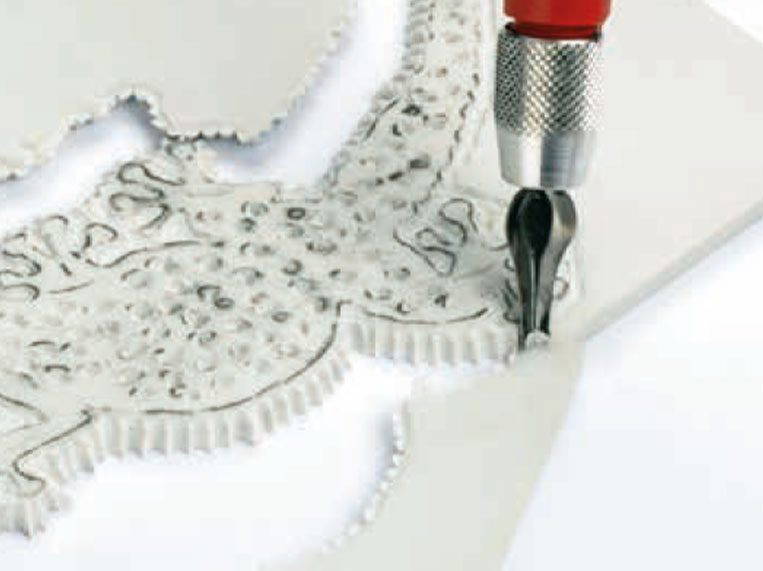 Cut out the stamp using the no.4 cutter at a 45° angle creating an edge that can be used when lifting the stamp.
prepare the fabric

It will be beneficial for you to first iron your chosen fabric which will remove any creases and ensure you have a flat area to work on. You may also find it useful at this time to consider the layout of your design. Chalk, pencil, or tape can be used to place markings on your fabric for where you would like to print.
prepare the ink

When you are ready to make a test print, scoop out a small amount of ink from the tub and place this on the ink tray. Using the fabric roller make short strokes to spread out the ink and evenly coat the roller. Lift the roller regularly to avoid repeatedly working the ink in the same areas. The ink makes a tacky sound when the roller is coated with a thin layer of ink.
Place your finished MasterCut block on a flat surface and roll the ink onto the block, making sure you transfer the ink as smoothly and evenly as possible. Avoid rolling ink into the cut areas. If the ink coverage becomes bare or patchy then add extra ink.
printing

When you are ready, make a test print using scrap paper, newspaper or old fabric. Place your MasterCut block on top of the test sheet and press down with your hand. Take care not to move the printing block to avoid a blurry or smudged print. Apply pressure to your printing block with your hands, ensuring you cover the entire print. Partially peel back the MasterCut block and check for a good transfer of ink. You can apply more pressure to the printing block should there be any patchy areas.  If you are happy with the results remove the printing block from your trial print.
The MasterCut can be adjusted and refined with more carving if necessary, at any point in the process.
When you are happy with your result repeat the procedure with your chosen fabric. Place the fabric onto a flat surface, and if using fabric with multiple layers (for example a t-shirt or bag) place the printing blanket between the layers to avoid any ink soaking through. You can use a pencil or chalk to mark on your fabric where your design will go. More ink will need to be applied to the MasterCut block, following the same inking process as with your trial print.
When you have printed your fabric, remove the printing block and leave your fabric to dry. The ink may dry quickly or take many hours to dry depending on the thickness of the ink application; the fabric used and ambient conditions.
aftercare of fabric

When your printed design is dry, you must heat set your fabric to ensure colourfastness, permanency and washability. Using an iron, ensuring that you don't use a steam setting, iron the reverse of your image for 4 minutes. The design on your fabric is washable up to 40°C, but please follow the manufacturer's instructions for care of your chosen fabric.
Cleaning up

The roller and ink tray can be cleaned in water by running under a tap until all the ink is gone. Shake any excess water out of the fabric roller and leave to dry. The MasterCut blocks are also fully washable under water and can be used to print again.
Keep your Lino cutters in a safe place, out of reach of children.
Hints & Tips

Protect any clothing and furniture where you are working.
Remember when you make your print your design will be reversed, so take care with lettering.
If you are printing on fabric with multiple layers place a piece of cardboard or paper between the layers.
The best results are achieved on 100% cotton.
Wash and iron printed fabrics on the reverse.
Clean all equipment after use, and do not leave the roller soaking in water.
When rolling the ink out, it will make a tacky sound when covered with a thin layer of ink.
You can use several colours when printing. Essdee fabric block printing inks can be intermixed to provide a wide pallet of colours for your designs.
Continual washing of the printed fabric may lead to the design fading.