Essdee are proud to be sponsoring Print Day in May (PDiM) for the second year running. Our mission is to inspire the next generation of artists and printmakers, so PDiM is a fantastic opportunity for us to help encourage people to get printing.
Print Day in May
Every year on the first Saturday in May, printmakers world wide celebrate Print Day in May in print shops, studios, kitchens, on beaches and sidewalks all over the world.
For 24 hours, as the day unfolds around the globe, printmakers in over 70 countries begin making prints and join in this powerful celebration of creativity.
By nightfall those taking part share their work on social media and the PDiM website with thousands of others, creating a community chain around the world.
The Essdee mission is to inspire the next generation of artists and printmakers, so we love sponsoring PDiM as it is such a fantastic way to encourage people to get printing.
Essdee
We are a UK manufacturer of block printing products and have been making our famous British Scraperboard since 1945. To achieve our mission to inspire the next generation of printmakers, we ensure that our innovative products make block printing accessible to a wider range of age groups and abilities, from affordable starter kits to inventive and patented tools and accessories.
Our website features 'How To' guides, interviews with inspirational printmakers and instructional videos. We also showcase inspiring artwork from new and established printmakers on our social media pages.
We are a multi-generational family business based in Worcestershire, England. We offer our products to retailers, distributors, schools and other businesses around the globe, and we are proud to fly the flag for British manufacturing.
Environment
We not only want to inspire artists and print makers to create artwork, we also want to inspire them to protect the environment.
Our lino is made from natural ingredients, including linseed oil and wood flour, and is biodegradable. Our inks are water-based and free of toxins, our products are all latex free, and our lino printing products are vegan friendly.
70% of our electricity is generated from the solar panels on our roof, we recycle our waste lino and and Softcut back into the manufacturing process, and by the end of the year we will have phased out any remaining plastic packaging, focussing instead on recyclable cardboard and biodegradable wrapping.
Win essdee products
We are offering a prize of £75 worth of Essdee products. The lucky winner can choose which items they would like from our extensive range. To be in with a chance of winning, simply post your PDiM print using the hashtag #essdeepd2021 and we will pick a print which catches our eye. The submission deadline is 9am (GMT) on 4 May 2021. We can't wait to see your entries!
FEATURE YOUR ART!
Created something beautiful? Tag us @essdee_uk or use #essdee for a featured post on our Instagram page!
OTHER ARTICLES
Got 5 minutes? Have a read of one of our other blogs for more inspiration!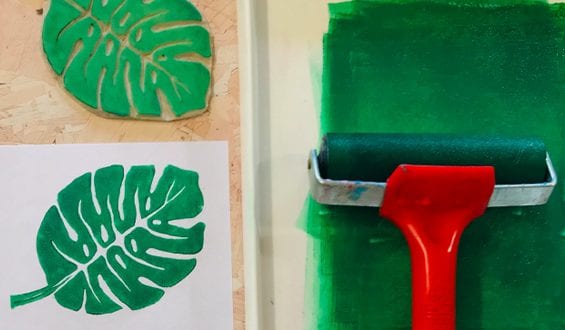 How to Make a Monstera Leaf Lino Stamp
Hey there! This is Hayley from Buff and Blue.
I've been asked by the folks over at Essdee to do a little beginners tutorial to help you get started with the first steps into printing.